Decorating th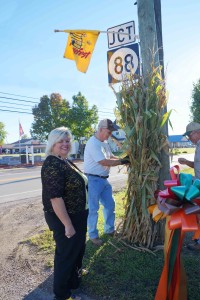 e town for Honeyfest!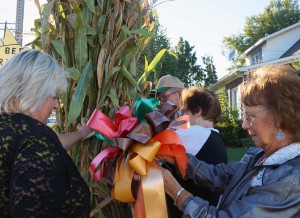 Welcome to the Clarkson Honeyfest
It's all about the HONEYBEE! An annual event that began in 1995 and now in its 19th year, this annual bee-themed festival celebrates Grayson County's ties to the honey industry. It has become an event Grayson County and surrounding areas look forward to each September.
Named for the Walter T. Kelley Company in Clarkson, Kentucky, one of the largest manufacturers of beekeeping supplies and equipment in the United States, the Clarkson Honeyfest is looked forward to with anticipation from one year to the next. The entire city celebrates by decorating homes and businesses, lawns and storefronts. Light poles proudly wave bee-themed flags and ribbon bouquets throughout the city, welcoming attendees from all over Kentucky and surrounding states. The entire community has embraced and generously supports the events that draws thousands of people into the town each September for the wholesome, family oriented atmosphere and festivities. The Clarkson Honeyfest is held the last Thursday, Friday and Saturday in September and hosts numerous activities such as a beauty pageant, decorating contest, children's rides, parade, karaoke contest as well as food and craft booths. There are bluegrass and gospel music performances at night, ending with a southern country/rock band on Saturday night.
In 2006, enacted by the General Assembly of the Commonwealth of Kentucky, the Clarkson Honeyfest was named and designated as Kentucky's Official State Honey Festival.
Come join us September 25-28 for this year's Clarkson Honeyfest!