Taste of "HONEY"fest Cooking Contest
Thursday,
Sept. 25, 2014
"You be the judge!"
Again this year, YOU can be the judge at the Taste of "HONEY"fest Cooking Contest. Just come and taste all of this year's entries and submit your ballot indicating your favorites. Entries in each category receiving the most votes at the end of the judging period will be declared the winner!
Drop off entries at Clarkson City Hall between 5:30 and 6:00 p.m.
YOU judge between 6:00-7:00 p.m.
Admission: Adults- $5.00     Children Under 12- $2.00
2014 Taste of "Honey"Fest Rules and Regulations
1. The person entering the item in the Cooking Contest must prepare all entries.  (Children may have verbal prompting instruction, but no "hands-on" help from an adult.
2. A legible copy of the recipe must be submitted with each entry.
3. Entries will be judged in the following categories.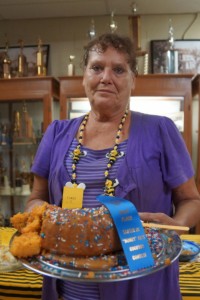 Breads
Desserts: Cakes, cookies and pies
Cakes (Professional)
Dressings and spreads
Meats
Side dishes
Miscellaneous
4. Each recipe must contain at least 1/4 cup honey.
5. Entries must be delivered to the Clarkson city Hall on Thursday, September 25, 2014 between 5:00 and 6:00pm. NO LATE ENTRIES WILL BE ACCEPTED.
6. Ribbons will be awarded to first, second and third places in each category. One "Grand Champion" ribbon and prize will be awarded for overall excellence.
Note: Each entrant must submit the entire batch (or yield) of the recipe they are entering.
For more information contact:
Beverly Harrison at 270-242-7162 or Joyce Bell at 270-242-7642.