2017-Application-for-Fallin-for-the-arts                                    
                                                Sept 30, 2017
My Father's House, located at 207 E Main St in Clarkson, KY, will be hosting the
5th Annual "Fallin' for the Arts" during Honeyfest on Saturday, September 30.
Looking for artist to display their works in our third annual juried art show.
We will have three age categories for students and one for adults.
Each school will make the selections they wish to enter from the best of their students work.
Students will then be judged by a panel of artist at the show.
Ribbons will be given  for first, second and third place.
Adults will be judged by public vote.
There will be a cash prize for first and second place and ribbons for third and honorable mention.
Fees:
There will be no fee for students to enter.
Adults will pay $10 entry fee per art piece, which will be used for the cash prizes.
Deadline for student and adult entries will be Sept 23. Entries may be brought by My Father's House  before September 23.
Amount of prizes will be determined by the amount we take in on entries. Second place will receive half of the amount first place will receive. There will also be an honorary place ribbon in this category.
We are looking for other forms of art to perform throughout the day. Music, singing, acting, etc. We will have a small PA system. If you have a need for something more, you will need to provide your own sound system. All participants in this category will need to preregister to insure a spot.
Deadline on sign up will be determined by number of slots available.
Leslie Downs @ 270-589-4868 is in charge of this area and will need to be contacted for more info.
For more information contact:   My Father's House– Paula Haynes 270-242-4152
***CLICK BELOW FOR APPLICATION FORM***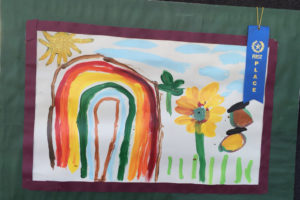 Save
Save
Save
Save
Save
Save
Save
Save
Save