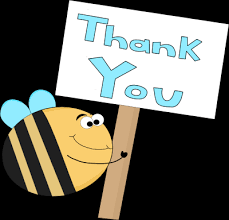 We  couldn't do it without you!
Once again we have been blessed with generous cash donations to help sponsor our Annual Honeyfest event. We want to say THANK YOU to the following local businesses and individuals for their support, as of September 1, 2016.    This list will be updated daily, as donations are received.

●  Indicates a gift value of 50.00 or more.
●● Indicates a gift value of $100.00 or more.

====================================
A & O Gas Co., Inc. /Olvin Flake ●
Agency 1 Real Estate ●
American Legion Post ●●
Baillie Lumber ●●
Bank of Clarkson ●●    www.bankofclarkson.com
Barbara Blackwell
Bee Hive Assisted Living ●
Brite Electric Supply Inc. ●●  www.bwesinc.com
Cain Trucking/ Sam & Nancy Cain ●●
Cecilian Bank ●●
Clarkson Drug Store ●●
Clayton Watkins Construction/ dba Wabuck Development Co. ●
Dermitt Funeral Home ●●
Farm Bureau Insurance/Bill & Shane Thomason ●●
Fort Knox Credit Union of Leitchfield ●
Grayson County Chamber of Commerce ●●
Goff & Goff Attorneys at Law ●
Grayson County Ready-Mix/ Tom and Jo Ann Glasscock ●
Hardee's Restaurant ●●
Heartland Electric/Joe Heavrin ●●
Higdon's Family Dentistry/ Dr. Norris Higdon
J.C.'s Cigarette Outlet●●   www.jccigs.com
K's Café & Catering/ Kay Gibson ●●
Kelley Beekeeping Company●●  www.kelleybees.com  
Knights of Columbus ●●
L & L Sales/ Barbara Johnson ●
Larry T. McClure, M.D. ●●
Leitchfield Small Motors
MS Fuel, Inc./ Mark & Carla Seabolt ●●
McDonald's Restaurant of Leitchfield ●●
Midway Pharmacy ●●
Mike Cain Trucking/ Mike & Ruby Cain ●●
Ralph's Market/ Ralph & Bev Harrison ●●
Tim Moore, State Representative ●● www.mooreforstaterep.info
St. Elizabeth Catholic Church ●●
Sew Much More Sewing Center/ Dixie Franklin ●
Shelter Insurance/Dale Woosley ●
Susan's Hair Shop
The Record ●●
Trinity Insurance Services, LLC. ●
Twin Lakes Regional Medical Center ●●
Twin Lakes Family Dental (Linel D. Galloway Holwager DMD)●●      www.facebook.com/tlfdental
David Vickery, Attorney at Law ●●
Vision First of Leitchfield ●●
JRSK Enterprises, Inc./ dba Watson & Hunt Funeral Directors ●●
Wal-Mart of Leitchfield ●
Wilson & Muir Bank ●●
Wilson Dental Clinic ●●
David and Melissa Williams ●●
  ● Indicates a gift value of 50.00 or more.  
●● Indicates a gift value of $100.00 or more.
BEE a Supporter!  If you would like to become a supporter of Clarkson Honeyfest, we welcome your gift in any amount. For more information, please click on this link.
Save